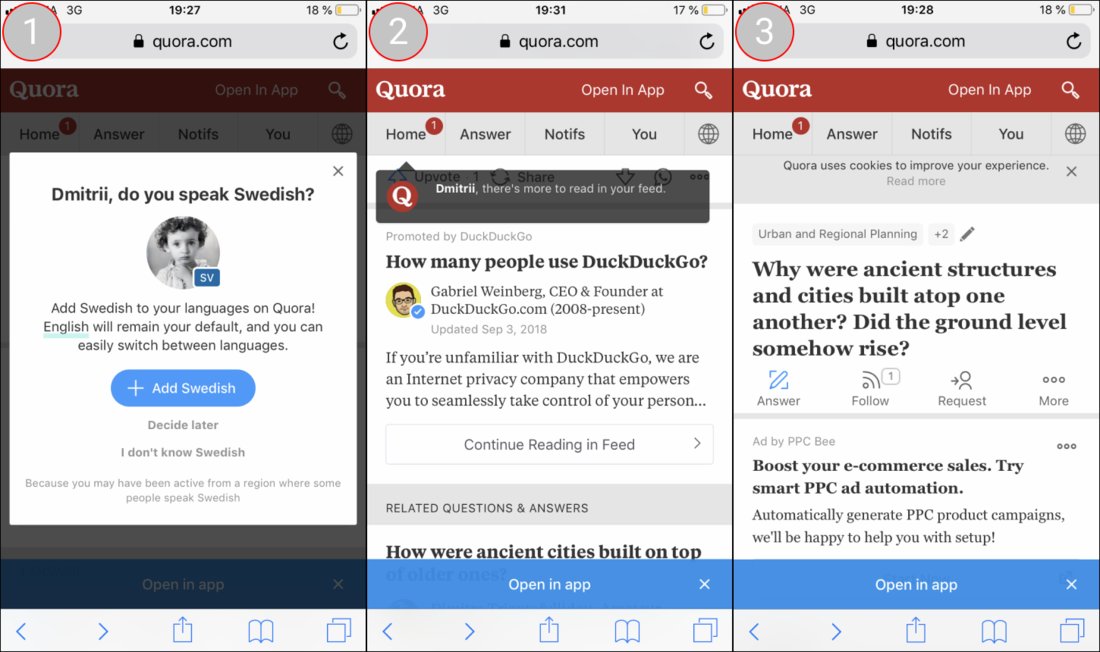 dmitriid: Ah, Quora. Slowly turning into another Reddit [1]
Before I go on, I really want to quote Quora's "About page" in almost in full:
— start quote —
Quora's mission is to share and grow the world's knowledge. A vast amount of the knowledge that would be valuable to many people is currently only available to a few... We want to connect the people who have knowledge to the people who need it.. and to empower everyone to share their knowledge...
— end quote —
If you make the mistake of logging in (and they make you log in to read some of the answers), this is how knowledge is shared with you:
Step 1. Because you may have been active in a country, Quora will block you from reading, and employ what can only be described as dark patterns to force you to add a language. And yes, I've already been through these steps before [2].
Step 2. What a lovely tooltip. Hint: if you need a tooltip to tell me where the feed is, why not just rename "Home" to "Feed"?
But the biggest transgression of the tooltip is this: if you try to click on it, hoping that you will dismiss it, it turns out it's not a tooltip, it's a link which will immediately take you away from the question you're reading to, well, your feed.
After some unspecified amount of time. The tooltip.. Fades... Slowly...... So..... Very...................... Slo......... Oh, finally it's gone.
Step 3. Open in app cookies why were cities boost your commercials open in app.
I'm sure there's a question and an answer in there somewhere. By this time I've lost all interest, and the knowledge remains unshared.