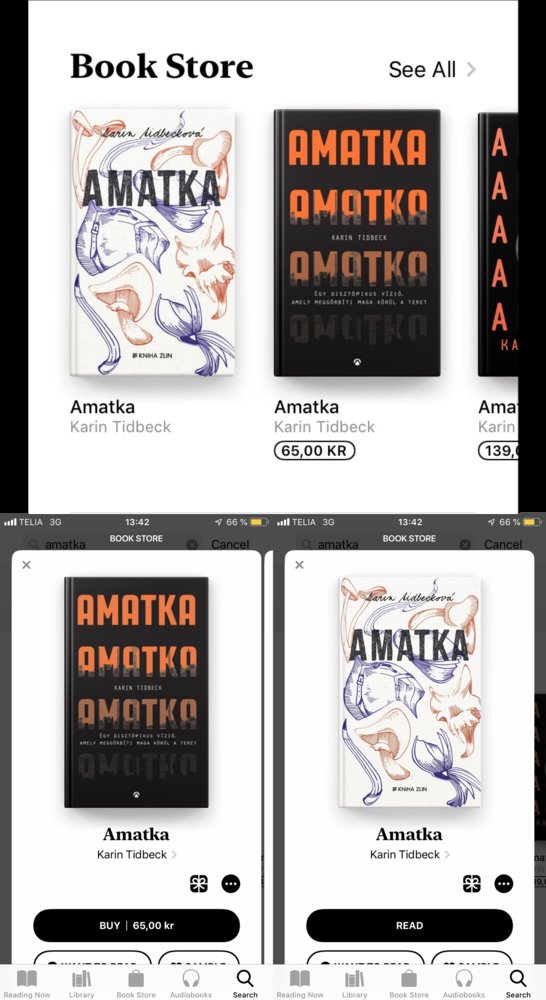 dmitriid: I live in Sweden. My AppStore (and, by extension, my Books Store) is set to Sweden. My phone's language is set to English. The last 100 or so books that I bought through Books were in English. Here you can see me searching for a book by a Swedish author.
It is obvious that the results of the search must be presented in this order: a Czech translation, a Hungarian translation, an English translation.
1. It's nearly impossible to tell which is which. Even when you select a book, its description is way below the fold. The info on language is near the end of page two below the fold (hopefully, the description will alert you to the language if you do go below the fold).
2. Even when it isn't different translations, iOS Books are notorious for showing multiple editions of the same book with widely varying prices. Do I want Edition A which costs $20, or do I want Edition B which costs $80, or do I go for Edition C which costs a meagre $8, why is it so cheap though? How can I compare them?
3. And of course there's no straightforward way to refund a book. Go to your Computer. Open iTunes. Go to your account. Log in. Go to your purchase history. Find the item you bought. Click more. Click refund. Log in in the browser. Refund. And the items to refund may take a few days to appear in the refund UI.
I guess this is what passes for "Extreme attention for detail" these days.